Jeg har vasket og ryddet som en gal dame i flere uker nå. Det hele startet ganske så uskyldig med en liten liste. Eller, en lang liste. "Jeg kan jo bare lage en liste over alt jeg skal bli ferdig med til jul" tenkte jeg. "Og bare gjøre litt hver dag"... Vel, jeg burde visst bedre. Jeg takler ikke å ha sånne lister hengende over meg. Det hele endte med at jeg endevendte leiligheten iløpet av et par-tre uker, og jeg var nok ikke sånn veldig hyggelig samboer den første helga iallefall. ;) Men nå er jeg da ferdig, så jeg er fornøyd.
I have been cleaning and decluttering for a few weeks now. It all started as a little to-do-list, and I actually ment I could finish it during Desember. But I should have known better... I can't handle to have a to-do-list that long...! And that darn list made me cleaning like a mad woman two weekends in a row, instead of doing a little bit each day. ;) Well, I'm kind of finished, so I'm happy now anyway.
I dag har jeg støvsugd, vaska gulv, vaska badet og vaska doen. OGSÅ har jeg pynta til jul! Jeg måtte ta meg sammen for å ikke ta fram juletreet. ;) Jeg elsker julepynten min. Jeg har nemlig gitt bort alt jeg ikke liker (vel, nesten alt, fant et par ting jeg ikke tok opp denne jula), og det som er igjen er ting jeg er veldig glad i. Veldig morsomt å finne igjen. :) Jeg liker at det ikke er mange steder å pynte i denne leiligheten, det gjør liksom hver enkelt ting mer spesiell.
Today I just did the normal cleaning, AND did some holiday decorating! So much fun... :D I love all my Christmas-stuff. It's not that much, but I love every bit of it. :)
Før jeg viser noe som helst av julepynten min må jeg vise dere Ariel i den beste vinkelen... Hun har skikkelig stor rompe når man ser henne bakfra!
First of all I must show you Ariel... She has a really huge ass when I look at her from behind...!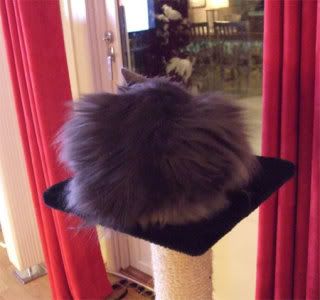 Mormor har strikka nissefamilien som sitter oppå dvdhylla. Mamma hjalp henne med å montere dem. Denne nissefamilien er favorittjulepynten min.:)
Og kanskje du kan se det: oppå kjøkkenbordet er det en pakke. Til meg! Jeg har alltid fått adventskalender av Arild, og jeg tror det er det dette er også. Det står nemlig en lapp om at jeg ikke skal åpne den før 1. desember. Også kan det hende jeg har klemt litt, og kjent at det er sånn liten kommode med plass til små pakker i....... ;) :D
The santafamily that's sitting on top of the dvdshelf is knitted by my grandmother, and my mum helped her putting them together. I love that little family, my favourite Christmas decorations. :)If you can see it; on the kitchentable there is a present. For me!!! My boyfriend (the best boyfriend in the world, ofcourse) sat it on the table with a note: "don't open untill December 1st".. I KNOW it's a calendar! I have been getting it every year we've been together (maybe not the first Christmas, I don't remeber...), but this year I was getting worried I didn't get any. ;) But I guess I am. And now I'm staying awake untill it's past midnight and I can open the present, and find out for sure it's 24 presents in there. ;)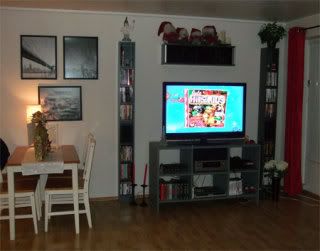 Close-up.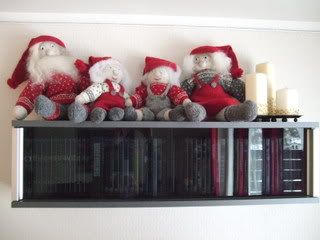 Litt lite bilde, men dere ser vel den lekre glitterlampen (som man ikke må, under noen omstendighet, flytte på. Da er det glitter all over the place.. Hehe) og noen andre juleting. :)
Oh, small picture.. Hehe. But you can see my sweet glitterlamp at the bottom left, and some other Christmasstuff. Just look closely. :p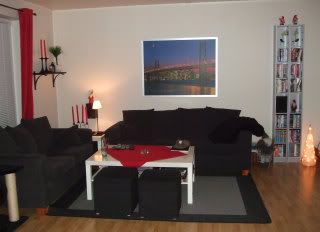 Jeg liker veldg godt dette hjørnet, syns det er så fin hylle! :)
Trodde jeg hadde tatt flere bilder jeg, men tydeligvis ikke. Jaja. Ha en finfin føste desember!
I thought I had taken more pictures, but sadly I didn't.. Wellwell! Have a great first-day-in-december!