Ah, for en flott helg jeg har hatt.. På fredag reiste jeg og Arild til Oslo for å se Anne Kat Hærland sitt show "gift, men ingen fanatiker" på Latter. Det var veldig morsomt! Hun er jo smågal.. ;) Før showet spiste vi middag på Friday's, og jeg lata som jeg var i USA hele tida. Hotellrommet våres var ikke knallfint, og som ex-stuepike sjekka jeg om det var reint.. *smekke med tungen* Vannglass på badet med tannkrem i og greier? Usjameg. ;) Men vi koste oss som bare det, herlig med hotellfrokost og sånn om morran.
Oh, I had such a great weekend! My boyfriend and I went to see a stand-up show friday after work. We went to Oslo, the capital of Norway. :) It was so much fun! We ate at Friday's before the show, I love that place. And living at a hotell is niiiice. When I was younger I cleaned rooms at one of the hotels here in Lillehammer, and because of that I know where to find the dirt.. ;) I found some at the hotel we were staying at in Oslo too.. ;) But I pretty much liked it there, and the breakfast was beautiful.
På lørdag reiste vi videre til Fredrikstad for å se hockeykamp. Før kampen begynte fikk jeg handla litt garn (mest for mormor og sånn da, ikke sååå mye til meg selv), litt hobbyting, og noen utrolig fine penner. Også spiste vi en skikkelig god burgermeny. Hockeykampen var da Stjernen mot L.I.K., og jeg kan love dere det var spennende...!! Himmel og hav..! Jeg satt sammen med Arild som filma til hjemmesida, og måtte være musestille. Heldigvis hadde jeg på meg fingervotter, så jeg ropte og ba litt inni dem. Resultatet ble 1-3, så heia L.I.K.!!!
When Saturday came we went on to Fredrikstad, a town not too long away from Oslo. We were going to see a hockeygame! Stjernen vs. Lillehammer. My boyfriend filmed the game for Lillehammers homepage, and it was really cool to be there. Lillehammer won!!!
Jeg har hekla litt siden sist også, snart ferdig med en svart lue til Monica, men må finne sort silkebånd til å pynte med før jeg gjør den helt ferdig. Men her er iallefall den jeg lagde mens jeg var på besøk hos henne for et par uker siden:
I've been crocheting some lately too... I'm almost done with a black hat for my sister, Monica. And this is a picture of the hat I finished while visiting her a couple of weeks ago.. Isn't she cute??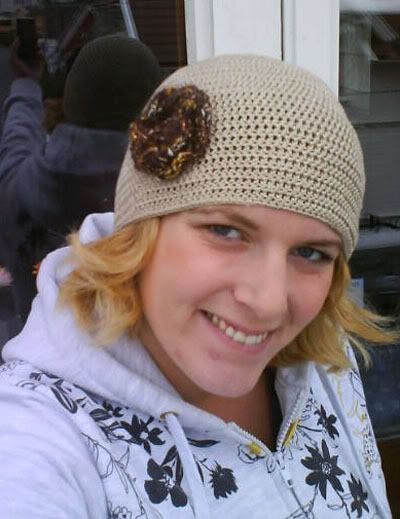 Også har jeg hekla noen kule kanintøfler til ene niesen min, hun skal få de til jul. Oppskriften er fra Happy Hooker-boka, jeg bare lagde dem etter oppskrifta og tova dem i vaskemaskina etterpå. De ble litt søte da. :)
And I have crocheted some supercute bunnyslippers for my niece! She'll be getting them for Christmas. :) The pattern is from the Harrp Hooker-book, I just followed the pattern, then felted them in the washer. They now fit a little girl, and I hope she'll like them. :)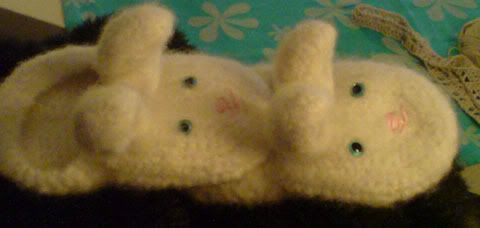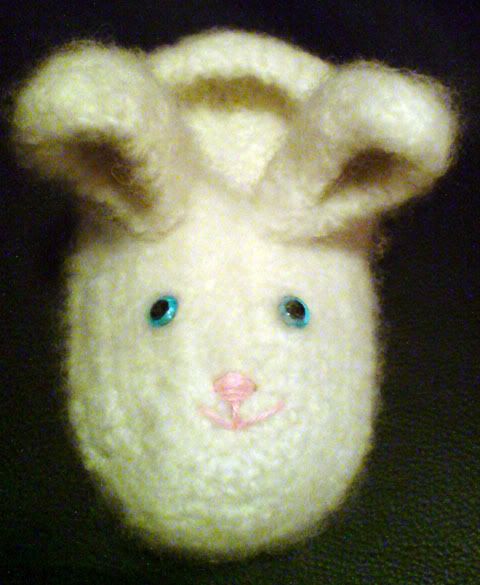 Jeg har rukket å bli forkjøla i helga da..! Nå sitter jeg og suger på sånne kvalme halstabletter som skal gjøre meg frisk i en fei.. Usj, så ekle de er. Men vi får tro de hjelper! Ha en riktig fin søndag!

Her er forresten link til videoen Arild filma (jeg satt og var sekretær ved siden av) om hockeykampen. Vel verdt en titt..!
Here's the link to the video my boyfriend filmed (while I sat and wrote things down to help him) from the hockeygame.. :)