To dager siden forrige innlegg, og her er jeg igjen!! Som dere da skjønner; jeg er skikkelig bitt av heklebasillen igjen! Jeg har jo tatt det litt rolig med heklinga ei stund, men nå, de siste dagene, har jeg hekla mye mer. Pluttselig har jeg mange oppskrifter jeg vil prøve (men om du har en oppskrift du tror jeg vil like, legg igjen en kommentar med link!). I kveld har jeg heklet intet mindre enn et helt skjerf..! Nå gikk det veldig fort å hekle det fordi jeg brukte en stor heklepinne, men jeg har i grunn sitti ganske godt planta i sofaen og hekla hele kvelden også. :p Oppskriften er fra boka til Debbie Stroller "The Happy Hooker", men du kan også finne oppskriften gratis på nettet
her
. Jeg fant et garn som tilsvarte det de har brukt i oppskrifta i forhold til hvor mange meter per 50 gram, men syns allikevel mitt ble anerledes. Brukte bomullsgarn da, kan jo kanskje ha noe å si?
As you probably have guessed (since I'm already posting again, only two days after my last post!) I'm all into crocheting again! Suddenly I have several patterns I want to try out (but, oh, if you know of a great pattern I should try, leave me a comment!), and I can't wait to get back home from work so I can crochet again. It's kinda like beeing in love, I'm so pleeeeased when I'm crocheting now. :D Tonight I crocheted a whole scarf..! It was really quick, because I used a big hook... But I have been on my ass crocheting a lot of the evening though. ;) And as usual, I couldn't wait to show it to the crochetworld. ;) The pattern is from "The Happy Hooker" book of Debbie Stroller, but you can also find the pattern free

here

.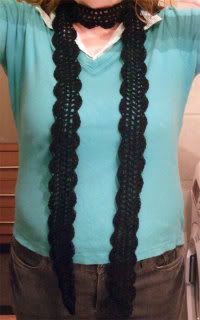 Jeg er ikke sikker på om jeg skal beholde dette selv. Dette er liksom ikke noe jeg ville brukt, sånn egentlig. Jeg har egentlig ikke hals til sånne plagg heller, hehe... Jeg har for kort hals. ;) Kan hende jeg sparer på det, så kan det bli en gave senere. Kanskje som en nødgave hvis noen pluttselig har kjøpt julegave til meg.... ;)
I'm not sure if I'm going to keep it for myself, these things are not what I would normally wear... So maybe I'll just save it, and use it as a gift later on.

Jeg så noen hadde rulla skjerfet sammen så det ble en blomst, men jeg klarte ikke det gitt... ;)
I saw someone had rolled it together, and it totally looked like a flower... I didn't succed at that. ;)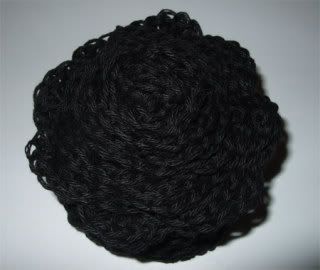 Jeg lagde et pannebånd i går, og prøvde det for første gang i dag. Jeg ble ikke overbegeistra, for jeg skulle nok ha lagd det smalere bak. Det dro seg liksom oppover og ødela håret mitt litt. ;)
Yesterday I made a headband, and I wore it today. I didn't love it, I should have made it more narrow at the back, it kept messing up my hair. ;)