Dette er mitt første prosjekt fra boka "The Happy Hooker". Jeg elskerelskerelsker mønsteret, og skal abasolutt lage flere. Monica fikk denne veska, og hun kjøpte en nydelig blomstergreie til å pynte med. Det ble skikkelig fint!
This is my first project from my new book "The Happy Hooker"! It's the "Fat-bottom Bag". I really love this pattern, and will make more of them! :D My sister got this one. She bought a beautiful flowerpin, I like it a lot. :)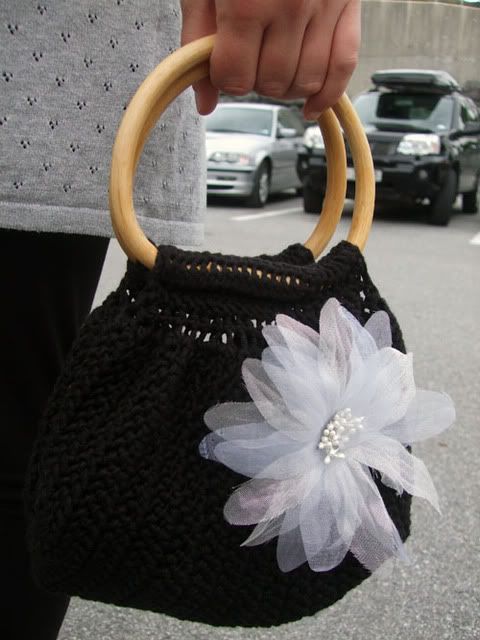 Jeg er ganske stolt over at jeg brukte opp alt garnet jeg hadde kjøpt til veska. Jeg har jo en tendens til å la garn ligge, også ender jeg opp med MASSE unødvendig garn. ;)
I'm really proud of myself, this is the left-over-yarn from the purse.. And I actually used it..! It became a cute hat for those cold winters here in Norway... ;)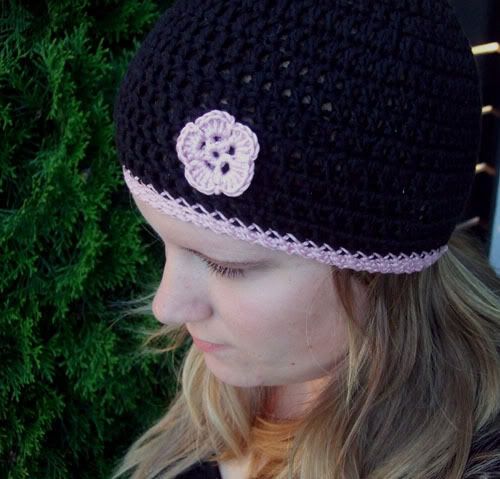 Nærbilde av lua og det rosa på den. Hadde akkurat ikke nok til å få lua helt svart, men syns i grunn det ble pent med det rosa. :)
A close-up of the pink details... Didn't have enough of the black yarn for a whole hat, but I think the pink just made it more pretty.