Jeg har virkelig fått unna en hel del hekling i kveld.. Jeg kan nesten ikke tro hvor effektiv jeg har vært! Jeg har blitt ferdig med et prosjekt jeg har hatt liggende ei stund, samt begynt OG fullført to småprosjekter. Det første prosjektet brukte jeg bare garn jeg hadde liggende til, ganske kjekt..! Det er en muffinsformet nålepute til mormor, hun har nemlig bursdag på lørdag. Jeg har også kjøpt magnetisk målebånd i rosa med blomster på. Syns det ble fin gave jeg. :)
I've been really busy crocheting tonight.. I can't believe how much I have done..! Funny, funny stuff. :D I have finished a project I had laying around for a while, and started AND finished two small projects. The first project is a scrap-yarn-project.. Gotta love that! It's a pincushion for my grandmothers birthday nest week. I also bought her a magnetic measuringtape in pink with flowers too, so it's nice stuff. :)
Link til mønster
her
/
Link for pattern
here
.
Det neste kjappe prosjektet mitt var et blomsterhatt. Den skulle egentlig bli større enn den ble, men jeg får nok bare gjøre et forsøk til. ;) Playstation-kontrollen ligger ved siden av så dere kan se størrelsen.. Ikke stor, sikkert bare akkurat passe til en nyfødt.
The second quickproject is a flowerhat. It was supposed to turn out a lot bigger than it did, I layed it next to a playstation controller, so you can see the size.. Not too big. But I'll hold on to it, maybe someone I know gets pregnant soon. ;)
Link til mønster her / link to pattern here.

Også til det litt større prosjektet jeg fullførte i dag. Grunnen til at dette har blitt liggende er fordi jeg ikke har funnet noen fine veskehåndtak som passet. Jeg har bestilt fra England og greier, men de funka ikke. Jeg har gått rundt i masse butikker og spurt, men aldri funnet noen jeg liker, ikke før i dag! Woho, på min vanlige bare-innom-hobbybutikken-en-tur-for-å-kikke fant jeg dem. Og nå er jeg endelig fornøyd. :) Veska er heklet i en tråd "Just Bamboo" og en tråd silke. Ikke en billig veske å lage, men litt eksklusiv. Mamma skal få den til jul, så hvis noen leser dette som også kjenner min kjære mor; hysj-hysj. :) Her er mønsteret.
Aaaand, the bigger project. The reason it has been laying around for quite some time is because I couldn't find any baghandles I liked. I have tried to order from England, and I have looked in every store I have been in for weeks. But today I found some beautiful ones!!! Not bad..! So I finished it, and it was so much fun. I love how it turned out. :) It's made of one strand of "Just Bamboo" and one strand of silkyarn.. Pretty exclusive. :) I'm going to give it to my mum for Christmas. :) The pattern is here.


Nærbilde av blomsten.. Heklet den i et nydelig garn jeg kostet på meg for ei stund sida, "Napoli" fra Løve Garn. Det som er er at jeg bare kjøpte et nøste à 50 gr, fordi det kosta 70 kroner. Men nå vet jeg hva jeg kan bruke det til!
A close up of the flower, made from a beautiful yarn called "Napoli" from Løve Garn. :)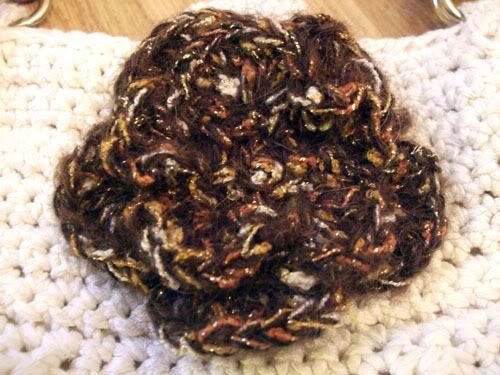 Jeg har festet på en magnetisk lokke-ting, herlige greier asså! Limte bare på blomsten med limpistol. :)
I have put on a magnetic lock-thing... :) I glued the flower on.
Og, for å se størrelsen... ;)
And, sizereference.. ;)